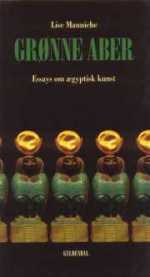 Ten essays on various aspects of ancient Egyptian art which together give an impression of its Egyptian-ness. The charactstics of Egyptian art are defined as well as the reasons why it was able to remain homogenous for three thousand years.The author seeks to understand its raison d'être and attempts to decode the message that it appears to convey.
At the dawn of history: the palette of Narmer
Pictorial language
The artist's aids
Royal sculpture
Portrait
Green monkeys
The black queen
The blind harpist
Heresy
Pyramids
Grønne aber.  Essays om ægyptisk kunst
(Green monkeys. Essays on Egyptian Art – in Danish)
208 pp, colour ills.
Gyldendal 2000
269 DKr
Out of order – but Lise has a few left.  Send a mail.